The year is 1909, The good ol' west is dying, and the new age is rising. Technology and science are at a rise, and the cowboy is being replaced.
Gangs are at an all time high. Gollack's gang, Clark's gang, and even the Bandito's have been spotted looting, pillaging, and raping. These times sure are troubled, but you are trying to make your way through, you are tyring to live your life, may it be the life of a farmer, shop owner, or even bandit, all will be tested. Who will pass?
Places:
Armadillo: An average city, keeping the style of the old west, is the city for those who wish to live an average life.
Thieves Landing: The bad life lives here. The saloon is riddled with poker players, drunks, and bandits. This city is know for it's crime.
Blackwater: The rising city. This city is evolving with the times, paved roads lead the way for those new automoblies, and the dock brings in new life daily.
Brooks Bridge: The only way to cross the border into mexico, crossing a large river.
Twin Rocks: A pleasant city. Farmers and ranchers thrive here. Is next to mountains and hidden away from most evil.
Tombstone: This is a ghost city, after the raid of 1895, nobody lives here anymore. Gangs make this their hideout, and treasure is said to be found here. It is scary thats for sure.
Chiang Ming: A chinese settlement. A chinese gang also resides here, and this is the birth place of opium in these lands.
Russelford Ranch: A place for ranchers and farmers to come to trade. Prime location for bandit raids, has heavy security.
Fort Mercer: A large fort that hides the new group called "The Bureau" These people even order the sheriffs around...who are they?
Now lets get started.
You can ake your male/female into anything you want. A farmer? a rancher? a sheriff? and gang member? an outlaw? You choose and follow this application.
Name:
Gender:
Age:
What you are: (can be anything! from a lowly farmer to a rich man who plays poker, and everything in between. Please the better variety we have the more fun!)
reputation: (1-100 - 100 means everyone knows your name and who you are, not eberyone has to be popular.)
Bio/History:
Appearance:
Plot: The land is being overunn with gangs, while the government creates a new group called "the buraeu". They fight the gangs, and those in between must fend for themselves.
-IMPORTANT-
There are 4 gangs.
Gullock's gang: is a gang for crazed men who like nothing more then to raid and rape.
Clark's gang: a sophistcated gang. Plans big heists, and tricks the government.
Banditos: Mexicans who crossed the border and started killing in america. They are all illegals, and wanted for their crimes. They are lead by Javier "Stone" Escuela
Gravediggers: A name given to this gang by the public. This is a treasure hunting gang, they doesnt care what they do or who they hurt as long as they get there gold.
**If you want to be in a gang please put that in your app.
NPC's
Spoiler:

Zhou- After his father died he got elected leader of the chinese gang.

The girl is his #1 bodyguard, skilled in many ways to kill.

Fred Gullock- Leader of the gullock's gang, and one tough son of a bitch.

Javier "Stone" Escuela- Leader of the banditos.

Edgar Ross- The top man. Government offical. The guy who is starting "the bureau"

Landon ricketts- another famous bounty huner

Leigh Johnson- Marshall of armadillo
Last edited by Genshin Urara on Sun Jun 27, 2010 3:54 am; edited 3 times in total
_________________
Spoiler:

Claimed:
Name: John marston
Gender: Male
Age: 38
What you are: bounty hunter
reputation: 90
Bio/History: Marston was a big official in Clark's Gang. He grew up in that gang, becuase his parents left him on the side of the road, and clark decided to raise him. After a huge fight, marston decided to leave his "dad" and the gang who tuaght him everything and become a person who hunts outlaws. HE has made a name for himself as "Slick" most know him as that, and he has been doing this for 5 years now. He lives in Armadillo.
Appearance: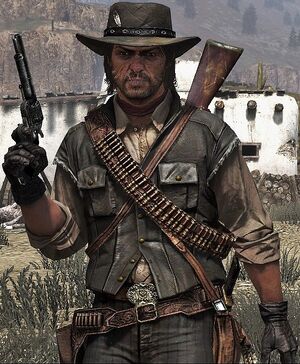 _________________
Spoiler:

Claimed:
Name: Roger F. Clark
Gender: Male
Age: 52
What you are: Gang leader, Clark's gang
reputation: 92
Bio/History: The leader of the infamous Clark's gang, Roger was the only man in John Marston's life that could be called a father. After John's abandonment, he has been prospecting throughout the entire land expanding his influence to the furthest reaches of the west.
Appearance:
_________________
"I fight... for the Users!"
Spoiler:
Claims:
Spoiler:

Leviathan

Co-Admin





Posts

: 1851


Join date

: 2010-02-11


Location

: Merone Base



who would i go to found out about bounties?
_________________
"I fight... for the Users!"
Spoiler:
Claims:
Spoiler:

Leviathan

Co-Admin





Posts

: 1851


Join date

: 2010-02-11


Location

: Merone Base



_________________
Spoiler:

Claimed:
_________________
"I fight... for the Users!"
Spoiler:
Claims:
Spoiler:

Leviathan

Co-Admin





Posts

: 1851


Join date

: 2010-02-11


Location

: Merone Base



Im gunna attempt to bring this rp back to life, this is just a test actually. Testing out someones rp skills...so here goes nothing...
(my character)
Name: Tripp Lockley
Gender: M
Age:24
What you are: Bureau Agent
reputation: 40
Bio/History: Tripp was born in Cedar Creek, now known as Tombstone. He left his town at the age of 18 to join the national army. When he heard news of the raid of his hometown, he had to see for his own. After hearing news of his entire family's death, tripp wanted nothing but revenge. He heard of a new angency that formed, and heard that they were in charge of cleaning up the country. He wanted in, and got in he did. Now him and his partner travel the land, cleaning up what they can.
Appearance: See pic
(babeedoll17's character)
Name: Matty O'Donnell
Gender: F
Age: 21
What you are: Bureau agent
Rep: 40
Bio: grew up in texas till she was 15 when her parents were murdered; as an orphan with no other family, she was sent to Fort Mercer. Where the bureau raised her to become a great agent, and seperated herself from emotion. After she got partnered with a new guy, she begins to feel somthing for him. but she doesnt want to act on those feelings....for now.
Appearance: see pic
_________________
Spoiler:

Claimed:


Similar topics
---
Permissions in this forum:
You
cannot
reply to topics in this forum